Description
TrueVIS
NEW

 MG Series
UV Printer/Cutters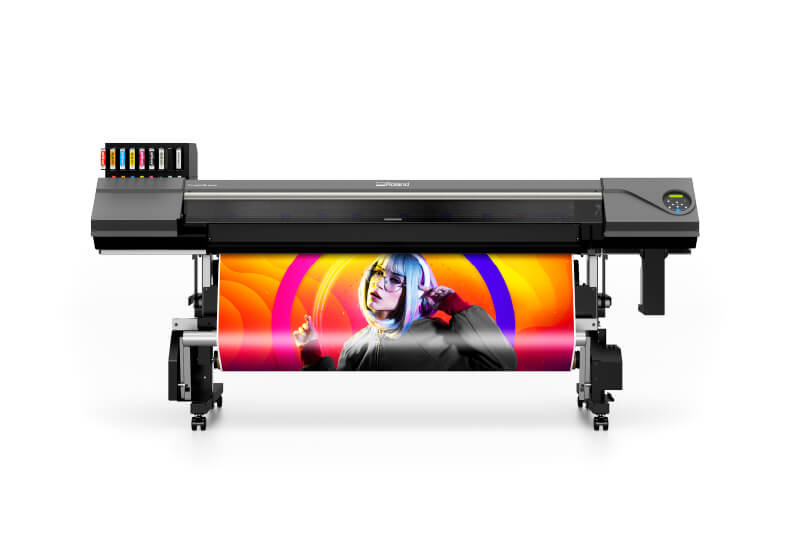 MG SERIES
UV Printer/cutters
Available ink
CMYK, Gloss, White, Red, Orange, Primer
220 / 500 ml
Professional Features
Tension Bar for Thin Films*
Expansion Table for Semi-rigid Card*
Take-up unit
Take Print and Cut Further
TrueVIS is synonymous with industry-leading print-and-cut machines. Enhance your capabilities with the added power of premium-quality UV-LED printing technology and specialty effects capabilities to offer your customers even more products.
Using the latest ECO-UV EUV5 inks for exceptional and premium-value printing, we go beyond CMYK to give you even more options and flexibility. Talk to a Roland DGA expert about your print requirements to discover the ink configuration that's right for you.
CMYK
Get premium results with high-quality CMYK EUV ink.
Gloss
Generate a multitude of tangible effects, simulated embossing and gloss finishes.
White
Print high-opacity white details or add sub-coats for dark or transparent materials.
Red and Orange
With our True Rich Color preset, extend your available gamut and reproduce brand colors perfectly.
Primer
Apply primer to the print area with precision for optimum media compatibility.
Shrink Inks
Perfect for flexibile packaging, Roland DG EUVS inks offer extended shrink capability.
Included VersaWorks 6
RIP Software
The latest edition offers powerful new 64-bit processing and RIP capabilities, plus easy, nesting, cropping, tiling and other features from the world's most popular RIP software.
HARLEQUIN RIP dual core engine and 64-bit native processing for enhanced speed and file handling.
Variable data options for printing multiple images and text onto media in a single print run.
UV post cure within the RIP and auto-generate White and Gloss layers directly in the RIP with Special Color Plate Generation.
Create cut data directly in VersaWorks 6 by extracting PDF data from your design file to use as a cut line — changing vector data into cut line data, merging multiple cut lines together, creating perf cut lines, and other intuitive features.
Easy new drag-and-drop interface allows you to quickly add jobs to the print queue.
Create color consistency with select Roland DG devices— print, scan and transfer color values.
Rotate, set spacing, and maintain clip position within the RIP to give you more control when printing graphics and applying Gloss ink effects.
INKJET INK
| Part No. | Description | Price |
| --- | --- | --- |
| EUV5-5BK | Eco-UV5 Ink, 500cc, Black | $119.99 |
| EUV5-5CY | Eco-UV5 Ink, 500cc, Cyan | $119.99 |
| EUV5-5GL | Eco-UV5 Ink, 500cc, Gloss | $119.99 |
| EUV5-5MG | Eco-UV5 Ink, 500cc, Magenta | $119.99 |
| EUV5-5OR | Eco-UV5 Ink, 500cc, Orange | $119.99 |
| EUV5-5PR | Eco-UV5 Ink, 500cc, Primer | $119.99 |
| EUV5-5RE | Eco-UV5 Ink, 500cc, Red | $119.99 |
| EUV5-5YE | Eco-UV5 Ink, 500cc, Yellow | $119.99 |
| EUV5-WH | Eco-UV5 Ink, 220cc, White | $66.99 |
ACCESSORIES
| Part No. | Description | Price |
| --- | --- | --- |
| BOFA-PRNTPRO | BOFA PrintPro Fume Extractor, LEC2 printers | $2,299.00 |
| BOFA_38MMHOSE | BOFA PrintPro 38mm Hose Kit | $59.95 |
| ET-30 | Extension Table for MG-300 | $500.00 |
| ET-64 | Extension Table for MG-640 | $1,000.00 |
| TB-30 | Tension Table for MG-300 | $1,080.00 |
CONSUMABLES
| Part No. | Description | Price |
| --- | --- | --- |
| BOFA-FILTER | BOFA PrintPro Universal Replacement Filter | $369.00 |
| IJ-SWABKIT5-50 | Swab Kit, 5 inch Swabs, 50 Pack | $21.99 |
PM KIT
| Part No. | Description | Price |
| --- | --- | --- |
| IJ-SWABKIT5-50 | Swab Kit, 5 inch Swabs, 50 Pack | $21.99 |
ROLAND MEDIA
| Part No. | Description | Price |
| --- | --- | --- |
| ESM-GCPRO-15030 | Gloss Cal Vinyl PRO, Air-Rel Liner, 30in x 150ft | $199.99 |
| ESM-GCPRO-15054 | Gloss Cal Vinyl PRO, Air-Rel Liner, 54in x 150ft | $354.99 |
| ESM-GCPRO-50-20 | Gloss Cal Vinyl PRO, Air-Rel Liner, 20in x 50ft | $65.99 |
| ESM-SGC2-99-30 | Solvent Gloss Canvas, 30in x 99ft | $321.99 |
| ESM-SGC2-99-54 | Solvent Gloss Canvas, 54in x 99ft | $578.99 |
| ESM-SSC2-45-20 | Solvent Satin Canvas, 20in x 45ft | $123.99 |
| ESM-SSC2-99-20 | Solvent Satin Canvas, 20in x 99ft | $214.99 |
| ESM-SSC2-99-30 | Solvent Satin Canvas, 30in x 99ft | $321.99 |
| ESM-SSC2-99-54 | Solvent Satin Canvas, 54in x 99ft | $578.99 |